——————————————————————————————————————————
Edit Jan. 21. 2012: Thank you MintCast team, for a very nice and sympathetic mention of this post and my email (at 1.13:36) in MintCast episode 98!

——————————————————————————————————————————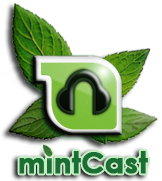 One of my favourite podcasts is MintCast, a podcast about Linux Mint. Or, more precise, as they say themselves: "A podcast by the Linux Mint community for all users of Linux". Most topics are indeed about Linux in general, or even about other Linux flavours.The latest podcast (as I write this – episode 97) is for example titled: "Which Linux is right for you?"
It is another weekly talk show, like there are a few around in the Linux world. MintCast is different because they have a young host and some less younger hosts, who all have different backgrounds, providing a nice mixture of opinions. I think it is fair to say that the hosts are " slightly above average Linux-users" and not Super-geeks, so they use an easy to follow language and explain things if they don't. Their reasoning in the discussions is one of the strong points of the current three hosts. They manage to look at subjects from different angles, and as a team, they don't jump to conclusions.
In episode 96 they announced that they are working on live-streaming their show, making it possible for listeners to react, and possibly interact, while the show is being recorded. This might start from episode 100 onwards.
MintCast on the internet.

The appearance of MintCast on the internet is a bit scattered, and possible confusing. It can be found on Google+, Reddit, Twitter, Facebook (where it seems to be sporadically updated), an IRC-channel (irc.spotchat.org – #mintcast – which seems to be uninhabited most of the time), the Linux Mint forums and it has its own webpage, which merely lists their podcasts with shownotes. In the sidebar of mintcast.org you can find ways of subscribing to the podcasts, and links to others sites with information.
With live-streaming there might be blown some new life into some of these channels.