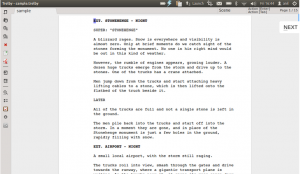 Picture:
Trelby.org
One of the things I am always looking for is good writing software. I mean "writing" in the sense of "novels", "short-stories" or even "whole books". It is a bit silly actually, for in order to write something decent you need pen and paper, or, if you must, a text editor. And every computer has a good text-editor, producing wonderful, allround .txt files.
But, of course, I prefer to dream about great software "helping" me. OMG!Ubuntu! wrote some days ago about Trelby, a free, multi platform, feature-rich screenwriting program. It is, according to OMG!Ubuntu! a resurrection of "Blyte" – a "film-making friendly tool". This old Blyte page confirms this.
It looks good and interesting, but it is, as it also clearly says, for screenwriting. And I am not planning to write anything like that.
I downloaded it nevertheless, to see if I could disable the screenplay editor, which "Enforces correct script format". I couldn't find out how to do that, though it might be possible.
It should definitely be no problem to use the program to write novels, or other types of works, once you get past the hurdle of learning the screenwriting-script. There is not too much help around about ways of using it in the Trelby Manual, but the internet can, as ever, help you out.
So it seems to be a program for people who know what they are doing, namely screenwriting, and who know how they are supposed to do it.
Personally, I'll keep waiting for my dream program, something along the lines of yWriter5….