(edit: I found this post from febr. 2008, written just before I started this blog. I might as well publish it here. I'll write soon about how/why I found it)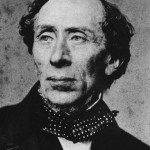 H. C. Andersen. Source:
Wikipedia
I never liked fairy tales, not even as a child. Yesterday I visited the H. C. Andersen museum in Odense and it didn't really help me to change my mind. As a boy I liked the set-up of the stories, the athmosphere and questions that arose during the reading. I often was wondering how the story would end and how all problems would be solved. But the solutions that were offered to create an end to the stories were most of the times very unsatisfying. It was as if the writer didn't know himself and just when it became interesting he or she created a witch or a fairy to do some magic and suddenly solve all unsolved endings. And they live happily ever after and got many children. Boom! End.
I had in mind that H.C. Andersen and the Grimm Brothers used old folk tales and other sources and I got the idea that those original sources might be more interesting than these uninspired endings.
During my visit to the museum yesterday I got the impression that H. C. Andersen was a hard working writer that gave almost everything in order to succeed. He tried many things to get his career going and apparently had the plan of producing as much as possible and hoping that something might work some day. This fits with my idea of the writer of the fairy tales being someone who knew how to write a story but who didn't had much to add.
It is also interesting to make a comparison between all his travels and visits to the upper class of Europe, and an, especially in our days, often advised managment plan of making one's name known by giving interviews, lectures and making as much noise as possible. His travel activities must have helped him making a career in writing, which might explain part of his fame.
According to the museum there are some reports of H. C. Andersen being unaware of the impression he made during these visits (most striking when visiting Charles Dickens) and probably unjustly combined with the fact that the seemed to be unsuccesful with woman I got the idea that he might have been a hard working man that had his mind set up on succeeding as a writer.
The texts of the exhibition gave the impression that he wasn't perfectly happy about his private life. It must have been tough for the young H.C. to become anything at all considering his unfortunate background, so his determination must have been vital for him during the main part of his life. One wonders if it didn't turn into an obsession that ruled his life a little too much to become happy. It is nice that people like his stories but it must have been even more important for him as a person to live a happy life.