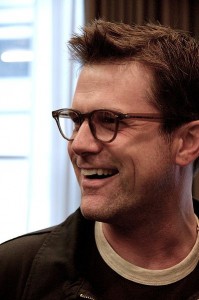 This post from 43folders.com contains a video with another interesting line of thoughts by Merlin Mann, who thinks about productivity, creativity and the caveats surrounding them.
Merlin presents his ideas in a popular way, fast and often funny, but he is serious and dedicated in trying to find out the truth about his subjects.
It is another attempt to define, and thereby better deal with, procrastination.
Here are some quotes I wrote down:
Procrastination happens when we don't know what to do.
(You go look around to find out what you should do next.)
Sometimes you procrastinate because you feel you need to do something else for a while. But if so, then never forget who you are and what you want.
It's important for creativity to read or do something even if you don't know why you are doing it.
But sometimes you have to put your head down and work really hard.
Happiness is in the right balance of these two.
In his video Merlin explains that it is important to figure out who you are and to always keep that in mind. Procrastination can be o.k., but it should never lead you away from your own goal.
There are truly many more thoughts in the video including his well meant advice on how to protect yourself from certain forms of procrastination.
—–
Here's another post I wrote about Merlin Mann's ideas.